Summer Movie Preview 2008
Step right up, step right up! Come inside where the AC is blasting, the lights are low and the popcorn is golden and warm...Once again it's time to check your brain at the doors to the multiplex, sit back in your plush stadium seat, and let the mavens of the mainstream tantalize, tease and trick you into oblivion.
The summer movie season is right around the corner (really, it's waiting patiently at that red light while revving its engine), and I feel that it is my duty to let you in on what to expect, to break it down for y'all. The Good. The Bad. And the Punny (yes, I'm talking to you Ms. Bradshaw)...
Indiana Jones and the Kingdom of the Crystal Skull
- The world's most famous archaeologist dusts off the fedora, pops a few Metamucil tablets and risks dislocating a hip while swinging from the rafters of a Nazi warehouse. His bastard son (?) goes along for the bumpy ride.
Chronicles of Narnia: Prince Caspian
- British teens inherit an empire. An exotic-looking prince goes to war. And a talking lion comes back from the dead to shell out some advice.
Sex and the City
- One last toast to martinis, men and Manolos.
Speed Racer
- A family-friendlier
Matrix
with more color. Matthew Fox becomes the film's Trinity as he manages to dropkick and roundhouse bad guys in a tight leather number.
What Happens in Vegas
- ...stays with Cameron Diaz and Ashton Kutcher as lame career choices for the rest of their lives.
The Love Guru
- Another nail hammered into the Austin Powers coffin.
Get Smart
- Take Michael Scott out of
The Office
and put him in charge of a covert mission to take down a massive international operation.
The Dark Knight
- Fanboys will drool over this sequel of the reinvented franchise while women and critics will silently weep over the loss of one of young Hollywood's greatest talents.
Mamma Mia!
- A young bride-to-be (Amanda Seyfried) finds out that her mom (Meryl Streep) was a ho back in the day, and anyone could be her biological dad. Scantily clad Greeks sing and dance amidst gorgeous Mediterranean locales while said bride puts the puzzle pieces together.
Hancock
- Will Smith as an alcoholic, deadbeat superhero. Action figure comes with his own bottle of Jaeger and a subpoena from his super ex-wife.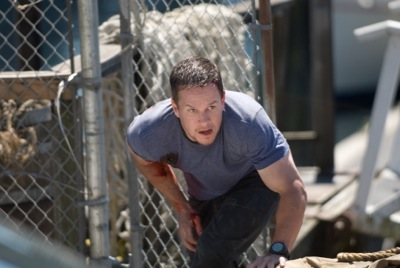 The Happening
- M. Night Shyamalan's latest spine-tingler...to be followed by
The Continuing
and
The Finishing
.
Wall-E
- Disney and Pixar force us to fall in love with the cutest piece of scrap metal we'll ever know (forget that annoying a-hole from
Short Circuit
).
Wanted
- Angelina's much-touted "last action film she'll ever do"...for $15 mil.
Hellboy II: The Golden Army
- I know. Who cares?
The X-Files: I Want to Believe
- Mulder continues to convince that cynical bitch that freaky shit still exists in the world...and he's not just talking about the appearance of Britney Spears on
How I Met Your Mother
.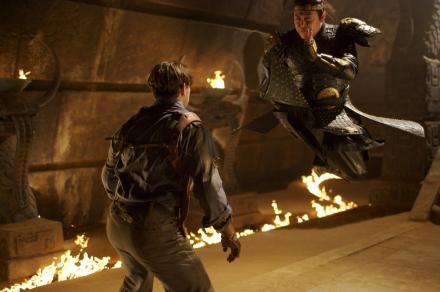 The Mummy: Tomb of the Dragon Emperor
Another archaeologist-and-son team grace the big screen - this time to battle a Chinese baddie who's pissed about not getting a fortune cookie with his orange chicken lunch special.
The Pineapple Express
- A stoner-buddy-action flick. Those explosions and dizzying edits are just a part of the hallucination.
Tropic Thunder
- Ben Stiller as a hotshot action star who gets tangled up with real-life mercenaries in the jungle. Oh, and Robert Downey Jr...in
black face
.