Returning to Melrose
Forget those
rumors about the cast of Melrose Place reuniting
for an appearance on stage at the 60th Annual Primetime Emmys on September 21 (btw, it's more than likely - I happen to have a good source).
If producers can revive
90210
, why not bring back America's favorite courtyard complex? It doesn't necessarily have to be a spin-off of the new show. Why not a two-part reunion miniseries? They don't make those anymore, and there's an audience just ready to wax nostalgic over flannel, grunge and camptastic catfights by the pool.
Network execs, here's my pitch (
And please, my Labor Day weekend wasn't completely occupied with these fantasy scenarios...Well, maybe it was
):
It's been ten years since Amanda Woodward and Dr. Peter Burns got married on a private tropical island after running from the law and faking their deaths in a fiery cabin explosion. Psycho Eve Clearly dies in jail after writing a confessional which explains everything that had happened with Kent Dumar. Amanda and Peter are basically cleared and are allowed to return to Los Angeles where the still-married Kyle and Jane (with ten-year-old daughter named Sydney) inform them that 4616 Melrose Place had been auctioned off to a British land developer (new character Simon Wellesley) who demolished the apartment complex and built spacious new lofts in its place. Amanda schemes to get her hands on this new property from the seductive Simon. Peter's like,
Okay, while you do that, I'll scheme to gain back my residency at Wilshire Memorial from that hornball Michael Mancini
.
Meanwhile, Amanda meets Simon's non-biological 15-year-old son, Austin, who, if you remember correctly, is Jo Reynolds's child she gave up for adoption after she shot drug-dealing daddy Reed in the middle of the Pacific! Amanda decides to contact Jo, who's no longer in Africa and schtupping Doctor Dominick, to offer her the chance to see how her son turned out. This, she hopes, will create drama which will distract Simon from maintaining control over the new Melrose Place Lofts. Jo comes to town, meets Austin and tells Simon,
Get yo British ass away from my son and give me the chance to say how sorry I am for giving him up
.
Back at Wilshire Memorial: Peter enlists Jane and Kyle to help him get Michael dethroned as Chief of Staff, especially after seeing how poorly things have gotten since Michael took over ten years ago (sure, he helped A&P fake their deaths, but karma's a bitch, and Mancini has it coming). Their scheme: Get Michael to think that Kimberly has come back from dead - AGAIN (Marcia Cross returning as a different character, Victoria Selby, an actress/lookalike who gets hired by Peter -
c'mon, they did it on Knots Landing with Lisa Hartman and Models Inc. with Stephanie Romanov!
). The plan works. Victoria effortlessly slips in to the role of Kimberly Shaw, haunting Michael once again, driving him to the brink of insanity.
Elsewhere, a dead body is found floating in the pool at the new Melrose Place - identified as Meredith Parker, Alison's sister. Alison learns about the murder and returns to Los Angeles to find out who did it - and along the way, she calls up an old friend to help, Billy Campbell (just returned from Italy after a nasty divorce from Jennifer Mancini). Alison has a pretty clear idea who Meredith's killer is - their abusive father whom they haven't seen in nearly 15 years. It appears that Meredith had come to L.A. searching for her younger sister, on the run from apparent danger. Feeling guilty for not being there for her sister, Alison is determined to bring long overdue justice to her father once and for all. Reunited after all these years, Billy and Alison hunt down the evil Mr. Parker and also rekindle the flame they once had for each other (a montage of flashbacks is inevitable).
Jo, while trying to find closure with her long-lost son, reunites with Jane and meets Kyle and little Sydney for the first time. It turns out that Jane, after hearing that Jo was back in town, called up an old friend to come back and see her - Jake Hanson (Grant Show, sans the
Swingtown
'stache). Jake and Jo reunite and nearly rekindle the flame as well while Jake helps Jo get in touch with Austin, but Jake is happily married up in Northern California.
Everything ties up nicely in the end, way better than that lame final episode they called a series finale back in 1999: After exposing Simon's undercover drug trafficking operation (using the Lofts as a front), Amanda takes over the property, introducing herself to a new generation of singles (one of them refers to her as a "cougar") and flirting with one of the hunky residents. Peter enjoys his new reign at Wilshire Memorial. Michael, after learning about the conspiracy against him, falls in love with Kimberly lookalike Victoria and moves off to Hawaii with her. Jo develops a relationship with Austin and promises to be a part of his life now that Simon has been shipped off to federal prison. Alison and Billy give their relationship another try after Alison's murderous father dies in a fiery car crash.
And the whole thing ends with a game of Chicken Fight in the Melrose Place pool...just kidding. That's all he wrote, folks.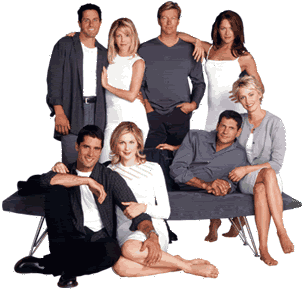 Finishing this up so fast, "it'll make your head spin,"
H.P.M.